Chapter 6
A CHANGE OF MIND
I was home on leave after returning from Italy in 1945. I renewed old acquaintances which included a girl from Allentown who I knew from my days spent at Lake Harmony. I had had a crush on a girl who was two grades ahead of me in High School, but that never had a chance of getting off the ground. She had been married and her husband was killed in WWII. I was still interested in her, so a mutual friend thought we should get together. That we did and things had changed as we were both interested this time. My leave was over and I headed to Drew Field, Tampa, Florida.
The air base was a stop-over place. The quarters were poor and the mosquitoes were awful. A group of us got together and we rented a hotel room in Tampa. We checked in at the base daily and headed back to our hotel as soon as we found that we weren't on shipping orders. Our room was a party place and we invited people off the street to join us. On one occasion a convertible full of girls was proceeding down the street 4 stories below and they responded to our calls from the outside balcony.
Orders for departure arrived after about a week and we boarded a troop train for the air base at Sioux Falls, South Dakota. We were south of Chattanooga, Tennessee when we received word that Japan had surrendered. The word spread through the train fast. The train stopped in Chattanooga and the troops left the train and started lining up, behind an American Flag, and the Victory March was on. Traffic came to a standstill as the troops filled the street. I headed to a nearby hotel to a bottle store. They locked the doors as I got there. I walked to the street and asked a pedestrian where I could purchase a bottle. He indicated the store which I had been at before and I told him it was locked. He told me to wait and walked to a nearby car, retrieved a bottle, and refused money for it. I thanked him and headed for the train. The train was late leaving as they had to have passengers before they could depart. At one of the stations along the way one of the officers said that he was home, the war was over, and he was heading home. With that he left the train and I still wonder how he obtained his official separation from the service.
The Sioux Falls air base was overrun with officers. They were trying to get those home who wanted that and to place those who wanted to stay in. The base was run by General Kane. He had lead one of the low level raids, as a colonel, on Polesti and it had been a disaster with a large loss of lives and planes. Someone remembered and had written, "Kane the killer" or "Kane the murderer", and other less complimentary words on the outside walls of the Officers' Mess. I had never seen anything like it. Morale was at a low, low level. They even had field grade officers in a staff car cruising around with a MP vehicle following and shame on any officer who failed to salute the officers in the car. The only thing I left behind upon departure for Ft Sumner, New Mexico, was a tooth that the dentist pulled.
Ft Sumner was at the end of the world and that was the truth. It was the place where Billy the Kid escaped to when pursued. He was finally hunted down there and killed. His grave is north of the town.
There was little to do here as it was a fighter base and they had no need for a bombardier. There was 3 bars in town and 2 of them were off-limits. The officers' club was our retreat and they did have Tommy Tucker's orchestra there one evening. Few or no women and it wasn't fashionable for officers to dance together. I found out that you could check out a shotgun at Special Services, but you had to provide the shells. There was plenty of desert to go around and you didn't need a car to get there. So we walked off the base and shot jack rabbits for something to do.
All the bomber crews needed flying time for pay purposes, so they brought in a C-47. We flew west to Phoenix where we dropped off some people and then headed northwest. That evening I was in the Coconut Grove of the Ambassador Hotel, Hollywood listening to the Freddie Martin Orchestra. We couldn't afford champagne, so they served our beer in the sliver urns. It was by far the easiest way I ever earned flying pay.
My letters to and from the girl back home sounded encouraging, but she wouldn't have anything to do with the military. I had intended to stay in and head for the war in the Pacific, but that ended when the Japanese surrendered. Now I had a new interest, so I refused to sign the papers to stay in. That caused a problem, but I was shipped to the B-29 base at Clovis, New Mexico anyway.
A bus ride north and I was at Clovis. I was given the job as an intelligence officer and it was gravy. I had the chance to attend a local college in the afternoons for a degree, but the letters from back home seemed more interesting. I had requested some songs, by telephone, from a local female disk jockey and we dated a couple of times, but my thoughts were back home.
Time progressed and I needed another flight for flight pay. This time it was in the B-29 bomber. I had read my intelligence reports well and when the day came for the flight I made a check of the plane and noticed oil streaks around one of the prop governors. My reports indicated that this could be dangerous. I showed it to the pilot and he called the crew chief, who called prop maintenance. The prop maintenance man OK'd it and I ask him if he was sure, because if it caused a problem and I survived, he would be the first one who I would look up. I wasn't trying to be a wise guy, but there was a big turnover and people had that "don't give a damn attitude" since they were getting out. The end result was that a new prop was wheeled out, switched for the other one and we enjoyed a 4 hour uneventful flight. I hadn't survived that far without controlling my destiny where it was possible.
The base adjutant, at Clovis, turned out to be from Nesquehoning. His name was Capt John DeAngelis. He was better remembered as the navigator who was with Gen Jimmy Dolittle when they went down in the Pacific early on in the war.
They tried again to have me sign to stay on, but I refused and was eventually put on orders for separation. My next stop would be Newark and out. It was December 1945.
- RWR - 30 Jan 1994
BETWEEN THE WARS
I returned home, as did others with no jobs in sight. Provisions had been made so we could get $20 for 52 weeks, hence the name 52/20. I was ashamed, so I held out as long as I could before I applied for it.
I was hoping to get a job with the coal company in their chemistry laboratory since it was something I liked in school and my grades showed it, or maybe with the Penna Power & Light company. That all fell by the way when there was an opening for a civil service patrolman's job in my hometown. I took the test for it and came out on top. It was a job.
The pay was low and the hours long. It was all night shift with reporting times of 6 PM or 9 PM. There was one week of dayshift per year when I filled in for vacation time. Shifts were 10 to 12 hours and you could have only 2 days a month off, but they couldn't be holidays or Saturdays. I did get a weeks vacation a year. When you did go to court you didn't receive compensatory time, but at least I had a job.
Somehow I was able to get my private pilots' license. A friend had been an instructor at the Ryan School of Aeronautics in San Diego and he came home with a Ryan PT-22. That had been my primary trainer, so things were going my way. On my cross-country flight he went along. Clouds obscured the ground for a time and we were lost. The clouds cleared and we had to find our position. A railroad appeared and I said we better follow it. We did and the tracks multiplied showing we were headed to a built-up area. He recognized the city and we landed at the local airstrip. I had my log book signed and we took off again.
My navigator training started working and I picked the compass heading. He said I was wrong and took over the controls. He turned us around 180 degrees. I told him that I had been using the compass, but I guess he didn't think I knew what I was doing. We saw a big body of water in the distance and he realized we had been heading towards the coast. He told me to take over and put it back on course. We did get home that day and I did get my private license at a later date.
An older friend of mine tried to get me interested in a girl from Allentown. He was a friend of theirs and told me that I should drop the local girl. It was pretty convincing and he even told me that I would be financially set for life. I did find that they were vacationing at Lake Harmony, so I buzzed the lake a couple of times. The last time I looked off the right wing tip and saw her mother on the pier waving. I hauled back on the stick in time to miss the Lake Harmony Hotel.
I used my flying experience as a bird might. I picked the local girl for my mate. I knew she was at home so I flew over town and wrung out the plane with a series of aerobatics such as slow rolls , half snaps, and you name it. She finally said she would and we did. We honeymooned in the Poconos and all was well until the other girl from Allentown showed up. She asked me to go to the bar to get a drink for her, which I did and all hell broke loose. How was I to know there was so much jealousy around. I learned, but the jealousy remained no matter who the other girl might be. Even one walking by who I happened to glance at while driving.
I was in the Army Reserve, so I thought we could use some extra money by joining the active reserve. I did and would go to Reading once a month. They took away the bombers and moved in transports, so to stay on I became their Provost Marshal. It wasn't long after that they moved to Dover, Delaware and I became inactive again.
I joined the Fraternal Order of Police (FOP) as soon as I was eligible. They had a nice home on Hauto Lake. I became the recording secretary. I am now a retired FOP member.
Police work was interesting and there was never a dull moment. We had throat slashing, got involved with guns, deadly fires, coal gas leaks, picking up ex-cons, and a million and one family arguments. You got to meet a lot of people, but you got to meet the worst first. I was rough but fair. I had arrested some guy for a traffic violation and wouldn't back down. I was badgered by a councilman, by the police committee, and finally offered my gun and badge to the chief who refused it. A member of the police committee hinted that we would have to buy our own uniforms in the future.
I had enough pressure along the way and didn't need any from within. I got even in a way. I had written a bunch of stop sign violations and before I left the shift that evening they had all been fixed but one. I knew that one. She was a farm girl from over in the valley and probably never had broken any law intentionally. I took her ticket and said to myself, "Girl, you have a friend and don't know it". I tore up the ticket and threw it in the wastebasket with the rest.
I did get to three FBI police training courses which were held in Palmerton and the training would come in handy later on.
My home life suffered due to the night shift work and long hours. with little time off. A baby girl was born, but she was delivered as a breach birth. She never left the hospital. About a year later a boy was lost due to a miscarriage in the 6th month. We were living with her parents and an uncle, but there was no problem there. In fact, her mother was a real gem, even after the fact. After a couple of separations I left for the final time. I applied for and received a divorce.
A small town was tough on young people who divorced, so I signed up with the Army. At the time I enlisted they weren't taking married men. It was a time when they were cutting back. Friends did get us together after the divorce, but I had made my commitment to the military. At that point she wanted to go with me, but it wasn't possible. That was 1950 and I haven't seen her since. (She died in 1999) I did hear she married (it was a guy she met, at the Elks, one New Years Eve while I was working). They had a baby girl, but she had to remain in bed for a long time to carry it. She had lost a child before she married me. She had been a premature baby and her mother told me that she was so small they put her in a cigar box filled with cotton and the oven of their coal stove acted as an incubator. Could that have been the start of her problems?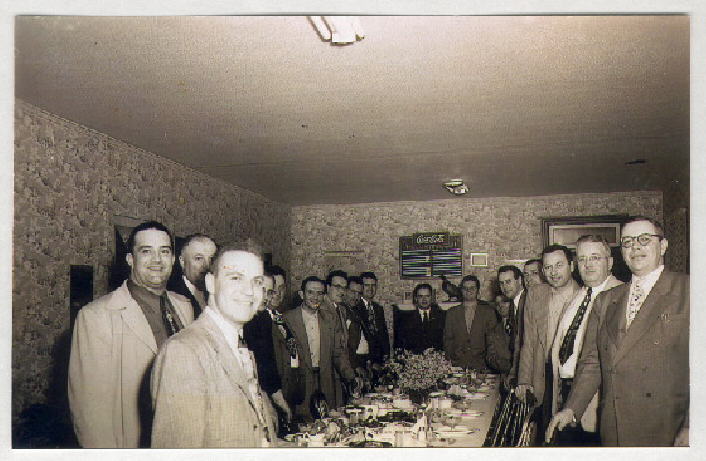 Bob Reichard's (first on left) farewell party after leaving the Lansford Borough Police Department
prior to entering the Army. The dining room of the John Wolf Hotel (Rt. 895) early 1950.
Little did I know, at that time, that we would be going to war with North Korea and that I would be landing near the 41st parallel in North Korea - November 1950.
- RWR - 30 Jan 1994
FORT HOLABIRD
In 1950 I signed up with the US Army to go through their agents' counter-intelligence school. The school was located in Baltimore, Maryland in the Dundalk section of the city.
I was back in the Army. We marched everywhere during the duty day and on Saturdays the student officers led us as we marched past the reviewing officers on the parade ground. On one occasion the officer gave us a "right turn" command instead of the "left turn" command, which would have led us away from the reviewing officers and off the parade ground. However, the front rank was loaded with "old soldiers" and we turned to the left instead, thereby saving the officer's career. He realized his mistake later and thanked us for not making a fool of him.
I was back in school again, but we were now schooled in many subjects which held a certain intrigue. Typing and administrative courses were interesting, but boring. The use of explosives, by-passing locks, mail intercepts, use of firearms, surveillance, wire tapping, etc. was like eating the forbidden fruit.
Prior to my arrival there the Chief of Police Association found out that the school had a course called "SMOE" which was short for "surreptitious methods of entry". They said the school was turning out criminals and they wanted the course stopped. And they won. Or so they thought. A new course showed on the curriculum and it was called "DAME" which was short for "detections of methods of entry". Guess what? It was the same course, but now everyone was happy. The course taught lock picking, safe cracking, studying habits, (dates of births, special dates which all facilitated entry into safes because people used those numbers in their safe combinations so they wouldn't forget the numbers). You even learned how to replace dust so your entry would not be noticed.
Sabotage was studied and taught. You learned of the different explosives to use as the need required. There were gas tank bombs, which were small timed devices. All you had to do was drop them in a vehicle gas tank and walk away. The end result came as you were far away from the scene. Fire was learned to be the device for getting rid of concrete bridges, buildings, etc. A simple pack of paper matches with a lit cigarette became a timing device for putting off other explosive and incendiary devices. Furniture made of a type of explosive that looked like wood was the way to get your charge into a site for later use. Coats and clothing made of an explosive material could be worn to the place desired, removed, folded compactly with a timed detonator positioned and your mission was accomplished.
Interrogation study and the actual participation in the subject was considered very important. The class was removed from the participants by a large one-way glass across the stage, so classroom discussion would not interfere with those doing the interrogating. It was also sound proof. I was on the stage one day and I missed a very important clue when the subject brought up the name Canaris and I breezed by it. How was I to know that Admiral Canaris planted spies after WW I knowing that Germany would rise again and those spies would do their thing in WW II. They were in France, England, etc. and had melted into their neighborhoods and had been accepted as such. My mistake brought me much criticism and I never messed up on that name again. I was surprised to find a civilian from Lehighton, by the name of Yenser, was one of the top interrogators. His brother was the Chief of Police in the same town and I had known him when I was a policeman in my hometown.
We were taught how to enter mail, read the contents and send it on its way. Your own wall outlets could have had small radios implanted and your own electric bill paid for the power. We could use your phone to monitor the area for conversation whether or not it was on or off hook. The recorded conversations were embossed on film, so the results couldn't be tampered or changed and that made it admissible in court. We had lip reading experts who could pick up conversations using binoculars.
When cities were occupied some agents were to head to the post office and seize the mail. The mail would be screened for order of battle information or any other intelligence. The next thing we were taught bothers me more than anything else today. That was to seize weapons registrations so we could confiscate them in order to curtail guerrilla activity. Is this the reason that people are trying to do away with the second amendment in our country today? If the guns are abolished or done away with, there is a good possibility that our democracy could be in jeopardy some day. The signers of the Constitution realized this possibility and that is why they had built in the safe guarding amendments.
We used 35mm and Speed Graphic cameras. Not only did we use them but we processed our own pictures. The Speed Graphic was the type used by reporters at that time and was an excellent camera. However, there were 2 pictures to a plate and if you failed to change the slide to show the exposed side you usually wound up with 2 pictures on one side. Ask me, as it happened to me.
Communism was taught for two hours a day. We had a major who loved the subject and could squeeze three hours into two. He talked ninety miles an hour, but he was good. The theory behind our exposure was so we would understand what we were fighting and it did work that way. They brought up names of some Hollywood stars and others who were prominent. Most of the names have been left behind by time but we were surprised to learn that communism wasn't only for the poor.
In the field our clothing could be civilian or military, depending on the situation. If it was military, your rank was not shown. On your uniform collar an unassigned eagle was displayed. If need be, the collar emblem could be replaced with insignia up to the rank of colonel as the situation demanded.
The school was the only place that I had found in the armed services where you could leave a money-filled wallet, on your bed, and it would still be intact when you returned. Was it the caliber of people? I think not, it was the knowledge that if it happened, everyone in the vicinity would face the lie-detector and the guilty one would face a court-martial. In those days a court-martial was not convened to determine your guilt. It was convened to determine your sentence, because you wouldn't be standing there if you weren't guilty.
While I was at the school the Korean Conflict occurred. One of the students was a master sergeant Wilson. He had been a captain of artillery, but a reduction of forces had reduced him to master sergeant. Had his regular army rank been less, that is what he would have received. (I knew a major in Augsburg later on who was dropped to his RA rank of corporal. Of course he could get out, but the years toward pension would be gone). We were sitting in the noncom club one day and Wilson was looking through a Life magazine. In it was a picture of his gun crew in Korea and the caption said that shortly after this picture was taken the crew had been killed. Wilson's remark was that he should thank the secretary of army because if they hadn't reduced his rank he would have been with them.
Most agents would wind up doing routine investigations. Others would go into specialized fields. Some would be asked to do jobs, which could wind up in embarrassing situations. If caught, we would be on our own and no one would recognize us.
I finished the school, but my military police specialty was in great demand in Korea so I was sent to Ft Lawton, Washington. There I was assigned to the 88th MP Company (corps) and wound up in Korea.
I had a problem assimilating into the police company and I didn't know why. After some tough times in Korea one of the sergeants explained it. When I joined them in Ft Lawton I was placed under suspicion by the company officers. They in turn asked their noncoms to keep their eyes on me because they wanted to know why the counter-intelligence corps had assigned me to their company.
My training wasn't a loss because I utilized it. I saved myself some money when I lost a pistol in Korea, and my detailed report writing (got noticed) and furthered my police career. The administration courses gave me my chance to be a first sergeant and (later in Berlin) I helped the CIC capture a German doctor who had kidnaped the head of German intelligence and took him behind the Iron Curtain.
- RWR - 24 Mar 1994
Copyright (C) 2003 by Robert W. Reichard and David F. Abner, All rights reserved except for items already copyrighted by others and credited within.