Introduction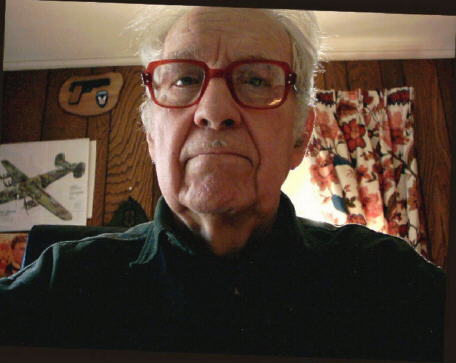 Robert W. Reichard
December 2002
In the spring of the year 2002, just after the 10th year anniversary of my fatherís (Frederick G. Abner, Jr.) death, I read a book by Stephen Ambrose with the appropriate title The Wild Blue. I picked up the book when I saw it displayed in a bookstore thinking that I would read it as a tribute to, and in memory of, my father. It told the story of the 15th Air Force in Italy during World War II, and in particular, detailed the service of Lt. George S. McGovern , a B-24 pilot who flew 35 missions against Nazi Germany during the years 1944 to 1945. He later. of course, became a Senator from South Dakota and the democratic candidate for President of the United States in the 1972 election. McGovern was assigned to the 455th Bomb Group, 741st Squadron. I knew my father was stationed in Italy at that time and decided to research his unit and squadron. This research led me to the 456th Bomb Group Association and Robert W. (Bob) Reichard.
Quote from Page 161 of The Wild Blue by Stephen Ambrose , "Another pilot, Robert Reichard, recalled that ' the barrage was so intense that the daylight disappeared and it was as if someone had cut out the sun.' "
After posting a message on the 456th Bomb Group Association's web site message board asking for any information about the crew of the B-24 named Boojum (my father's plane), I received the following email:
Subject:: 456th!
From: Bob Reichard rwreich@ptd.net
To: abner@voicenet.com

I just checked my 456th BG History Book and it says your Father and five others bailed out over Yugoslavia 3 April 1944 after their plane "The Texas Ranger" was hit by Flak on a mission to Budapest. I was in the 745th BS, but I didn't get there until Oct 1944. I'm sure that Fred Riley our Historian will contact you.
If you want to read about my time there in the air and on the ground: www.456thbombgroup.org/reichard.html

From a Farm in the rolling hills of Eastern Pennsylvanin, Bob Reichard
Here in one short message was the information that would lead me to the answers to most of my questions about my father's service in World War II. And it came out of the blue from someone I had never met or even heard of.. I didn't even know there was a 456th Bomb Group history book, but I immediately started searching the Internet for a copy and found one in a used book shop in Minneapolis! And a day later, due to Bob Reichard's intervention, Fred Riley, the 456th Bomb Group historian contacted me with the names and addresses of the surviving members of my fathers crew.
Little did I know at the time that this one email message would lead to such a rich collection of historically significant stories, all written in the first person and with the first hand knowledge of someone who was there. Please enjoy the stories on the following pages as I did, and please join me in offering my deepest thanks to Mr. Robert W. Reichard for sharing them all with us.
Copyright (C) 2003 by Robert W. Reichard and David F. Abner, All rights reserved except for items already copyrighted by others and credited within.