Chapter 14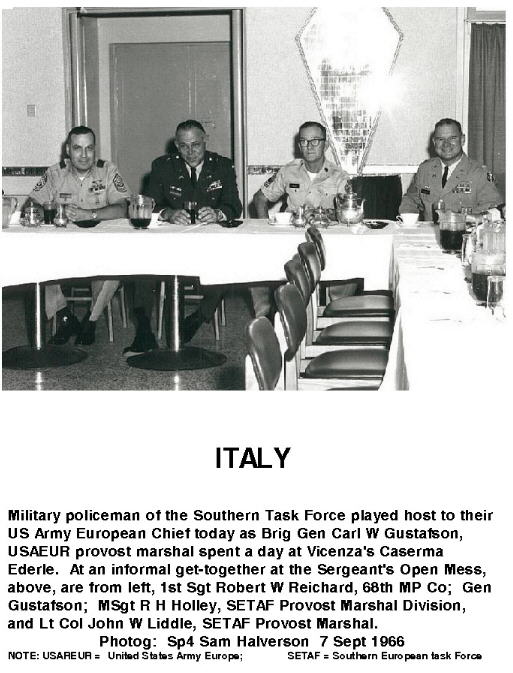 RETURN TO ITALY -- July 65/June 68
I was back in Italy and this would be my last overseas tour. Italy had been my first overseas tour, too. I had served there in WWII and had departed for home 18 June 1945.

I was assigned to the Missile Support Command (MSC) of the Southern European Task Force (SETAF). My duty was as the operations sergeant for the Provost Marshal of the Missile Support Command. The headquarters were located in Caserma Ederle, in the city of Vicenza. In a straight line to the west was Verona and to the east, along that line, was Venice.

The incoming sergeant was usually briefed by the outgoing sergeant concerning any unusual problems, procedures, etc. That was not the case. He did drop in for a few minutes, wish me well, and was on his way. I went about the usual routine, and in doing so I found that my predecessor was an unusual person. He had no faults or enemies. What a spot. How does one follow in the footsteps of a perfect person? It is difficult to do police work and keep everyone happy, so I reasoned he must have been a politician instead of a policeman. With that in mind I dug in and did my thing.

There were some known communists in and around Vicenza. From time to time they would march against our camp, Caserme Ederle. If they started their march close to noon there was no problem, because at that time most would leave the march to go home for siesta. Sometimes they would burn the US soldiers' cars parked on the city streets. While I was there they even placed two bombs within the walls of the camp. Both were discovered in time and were disabled before they could explode.

My wife, Joyce, got a job teaching dependent children. We were living in an Italian house. It had been a big villa, but due to changing times it had been converted into apartments for three families. The owner lived on the top floor, another Italian family was on the second floor, and we were on the ground floor. It was nice to live on the economy away from the military routine. (Some of the landlords immediate family had been killed in WWII during the air raids.)

There was an opening for a first sergeant (1SG) and I was eligible to try for it. The board promoted me and I was assigned to the 68th Military Police Company. The company had been run well by the former 1SG, but I improved it. Too much perhaps? The next thing I was invited to lunch at the Italian Air Base by my sergeant major (SMAJ), Walter and the SMAJ of SETAF. I loved the lunches at the Airbase because you ate good Italian food, washed down with wine, for two hours. You always closed out your duty day, before going to the lunch, because of the wine.

This day would be different. In the ride out they told me that I was going to be transferred to the 69th Ordnance Company to be the 1SG. The company was and had been in trouble, and since it was a highly classified operation, the problems had gotten back to the Pentagon. I told them that I was a MP 1SG and not a nuclear technician that the table of organization (TO) called for. They said that they understood that and had changed the TO to reflect an MP 1SG, due to the large number of MPs assigned for the unit's protection. The change had been submitted to The United States Army of Europe (USAEUR) for approval. They also understood that it wouldn't be approved, but they were buying time so I could go in there and put the company back on track. They reasoned that by the time of rejection the job would be accomplished.

It was new to me, the former 1SG had been ordered to be gone before I arrived. He obeyed orders, but he voluntarily met me off post to brief me. He was a fine fellow, but was there at the wrong time. The place was a disaster. Located ten miles from the main camp, it was called Pluto. Walt Disney cartoon pictures covered the walls and the dog, pluto, was stamped on the soldiers' passes. It was a big joke, but the mission was a very serious one. The troops were well trained in their professions, and they were of a higher than normal intellect, but their morale was shot. Their surroundings were crummy and they were on a ten hour work day. It was something you expected to find written in a book of fiction, not in the real world of the military

In the end I did succeed, but it required everything I had learned along the way to do it. Walt kept his promises and helped me with materials and the engineering help that I requested. They were right. By the time USAEUR rejected the change to the TO, we were getting superiors in all our inspections. I won't go through the problems and answers here, (see insert just below) because that would be looked on as the book of fiction, which I mentioned previously and is best left buried. I was awarded the Army Commendation for the second time and I received the Legion of Merit (LM). The local commanding general's career was saved.





My only regret was that the write up for the award of the LM didn't get into the real story, but then again I did get it and I guess they didn't want anyone to know that such a situation could have occurred in the United States Army.



PLUTO
69th Ordnance Company
APO 09221 (Italy)
I was promoted to First Sergeant of the 68th Military Police company, located at Caserma Ederle, Vicenza, Italy. The company was in very good shape when I took over, but I had learned enough on the way up to do those things necessary to fine-tune it. The end results were Superiors for the different types of inspections that we were subject to. The company was running on its own. The NonCom's knew what was expected and the morale was great due to the end-results. I had to keep it in fine-tune, but that required a very small effort.

I had a call to send fifteen of my best MP's to the 69th Ordnance Company, a nuclear weapons depot. That was my way to weed out those who were not easy to motivate. Little did I know what was about to happen, or my selections would have been different.

As I mentioned in another of these stories, the Sergeant Major (Mel Hoekstra) of SETAF and the Sergeant Major of Missle Support Command (Walter Grzesczuk) picked me to take over as the First Sergeant of the 69th Ordnance Co. They had noticed the changes that had taken place in the MP company and thought I could do the same for the 69th. I argued that the slot in the 69th called for a nuclear technician and that I was a military policeman.

The orders were cut and I was assigned to the 69th. The first sergeant of the 69th was ordered to depart before my assigned arrival date. He would comply with those orders, but quietly asked me to drop by before that date. We met on a Saturday. The guy was a prince, but was unfortunate to have been assigned to that particular company. He had a lot of things underway, which I kept in place since they were sound. The company day room looked as if it was created by Walt Disney, because Mickey Mouse and others of his characters covered the walls. Each enlisted man's pass had Pluto stamped on it (Pluto was the code name for the 69th). As I left that day I thought I had stepped out of the military circle and entered another world, one that is only found in books written about fiction. I was scheduled to go through a small arms plant in Brescia that same day, as part of a course that I was taking with the University of Maryland. I was on the Autostrada (super highway) headed west to Brescia and I was so engrossed in the 69th problems, that I passed the exit ramp and had to travel another 25 miles before I could get turned around.

I reported to work. The company had a major as the company commander and that was unusual for a company-size unit. There was no lack of intelligence, but morale and pride had departed a long time ago. I'm not sure they considered themselves in the military. They were down, so they took pride in being the worst. Mention the 69th Ord and everyone smiled or snickered. They were known as losers and championed that fact. The reputation was known in the Pentagon and senior officers were so briefed prior to their arrival in Vicenza. It had to be brought back in the fold. They even failed critical inspections and that was hard to believe due to the sensitive nature of their work.

The compound belonged to the Italians and we were renters. The facility maintenance was the Italian responsibility. When I arrived commodes were over-flowing and as a result the latrines were on a level with pig styes. You couldn't walk through the latrines without getting your shoes wet. I felt that the Disney cartoons on the walls perpetuated the "big joke" atmosphere. Their duty days were ten hours or more. They had to go to the camp in Vicenza for hair cuts, but with the long duty day they couldn't accomplish that as often as necessary and if they did get there on time, the MP's on post wrote them up before they could get their haircuts. It was a no-win situation. After the long day they were too tired, and lacking any company recreation facilities they had nothing to do but feel sorry for themselves.

The Missle Support Commanding Officer and the SMAJ (Grzesczuk) had promised me any help that I might need. I asked for paint and brushes, and to send me some engineers to correct the plumbing problems. They were good to their word. Disney became a thing of the past as the walls were painted. With the plumbing corrected we were able to sanitize the latrines. I needed a barbershop and Walter found the necessary items in Verona. Hair cutting took place by appointment, during working hours. The long duty day was a real problem. I talked to the CO about changing the Table of Organization & Equipment, to add more people, because I felt a normal duty day should handle any unit in peacetime. "No way," he said. The long hours were from higher authority and were supposed to take care of previous problems. (It had the reverse effect, it just compounded them). I suggested he request the return to a normal duty day and he said he couldn't do that. I asked his permission to see the Chief of Staff and I would make the request. That shook him into action and we did get back to a normal day eventually.

Building the esprit de corps was a bigger problem. They had been losers so long that we had to get them to the winner's side of the equation. With the clean-up, haircuts, and some free time I started to see daylight. In the weekly parades the change was evident. I could handle the company inspections, but the technical part would fall on the technicians. The company PX hours were extended and it stayed open after normal duty hours and there were beer and soft drinks available. The beer was not available if there was evening preparation for a next day inspection. I dropped in on one of the pre-inspection parties and found some of the Noncoms drinking beer and the troops doing what unsupervised troops do. I offered to supervise their troops, if they had forgotten how. One of them had about twenty years in, and all got the message.

We started to pass all inspections with flying colors. Morale was picking up and they were regaining their military pride. There were some who did not join. Someone threw human waste all over one of the latrine walls and stuffed toilet paper into the commodes and then flushed them, thereby causing flooding again. We didn't know if one or more people were doing it, so how to correct it? At morning reveille I addressed that unknown party and told him we realized he had a problem and we hoped he would seek help, because what he was doing wasn't normal. The incidents stopped.

The whole problem boiled down to a simple fact; people become their environment. Provide clean surroundings, good food (this wasn't much of a problem because they had a ration and a half), remove the no-win situation, and build unit pride on the parade ground and teamwork in the work place, and you are on your way to the winner's circle. You must set the example. Be fair, and show no favoritism.

The long hours were not a cure for inefficiency. During WWII, in Britain, the defense workers worked long hours in order to provide the equipment to defend the country. Everyone did it and there were few complaints, but they did find that efficiency and safety slipped as the extra hours were worked. When I had to work the ten-hour shift, I found that I paced myself, and there was no increase in production from my normal eight-hour day.

My retirement papers had come and it was time to go. The US Army of Europe, true to the predictions of the SMAJ's, did not change the TO&E and the slot of first sergeant would be occupied by a nuclear technician again. The company was making Superior in all their inspections, so the SMAJ's were correct there, too. However, the USASETAF sergeant major died on active duty there and did not get to see the end result. A general officer who was at the end of his career was retained and sent to a promotional slot. I think the award of the Legion of Merit to me was his way of saying, "Thanks". Walter retired in New Jersey and we have built on our friendship since that time.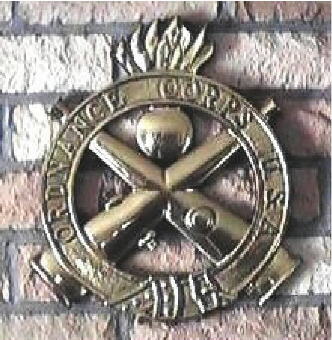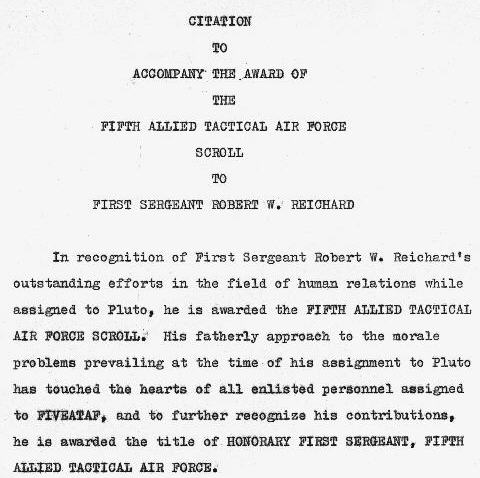 Brass Wall Plaque
Presented to First Sergeant Robert W. Reichard
By the officers of the 69th Ordinance Company, Vicenza, Italy
on his retirement from the Army, June 1968
- RWR - 20 June 1993
At one point, while I was deeply involved in my work, I received a call from personnel that my military occupational specialty (MOS) was needed in Viet Nam and I should ready myself for shipment. I told my wife to get ready for the stateside move. Several days later they called me and said that I had a permanent change of station , in the fiscal year, and couldn't be moved. I knew the time would come when I would be eligible for the move. I had enough time for retirement, so I told them to retire me. That froze me until the time came. I had served in WWII and Korea and I felt that I had done my share, and so it was.
We did have good times. I added to my college credits by going to the University of Maryland courses. Joyce attended the courses, too. At times I wondered why I was doing it, when I could have used the time to relax. In the long run it paid off and was instrumental when I was accepted by the American Institute of Industrial Engineers as a member at a later time.
The area around Vicenza was a shoppers' heaven. There were ceramic, shoe, clothing (knits), jewelry, gold, and etc. stores and factories there. I had shoes and boots made at a local cobbler shop. I would cut the pictures from a stateside magazine and he would do the rest. The dollar was king at the time, so a pair of custom shoes could be purchased for around twenty dollars.
We traveled into the country on weekends to look for a small restaurant with smoke coming from the grill chimney. Once we saw that we knew they were serving. I couldn't speak Italian very well, but I did know enough phrases to get by. Inside I would say, in Italian, that I was very hungry and red wine. The words were magic and the result was good food and wine.
Sometime Joyce's teachers' group would have a party on weekends and they might be indoors or out as the weather permitted. One Christmas we were invited to attend a teacher's formal dance in their castle. It was truly a castle where they lived. Each room had a decorated X-mas tree and each one was decorated in its own tradition. It was the X-mas party of all parties.
We made trips to Germany twice and spent our time there in Garmisch. It was strange driving through the Brenner Pass instead of flying over it getting shot at as was the case in WWII. We even drove to Rimini for an Easter weekend at a friend's apartment. It was on a British fighter base near here, where we were forced to land after being hit during WWII. The world famous Grand Hotel is located in Rimini. We had no reservations for dinner, but were accepted any way. We had to spend some time in the cocktail bar, while waiting for a place in the the dining room, but it was like being in heaven. The dinner and wines were great, too. I translated one of the appetizers and found that we were eating hard boiled quail eggs. The wines changed as the meal moved along. After dinner there was a good orchestra, and between dances the ladies were given perfume samples. It was another fabulous evening. My wife had wanted to visit Yugoslavia, but due to my security clearance she couldn't go.
Among the many fine friends I met there; was an Italian doctor named Giorgio. He had a country practice and the going rate per patient was fifty cents. He had been going with a daughter of one of the wine owners in his area, but Giorgio met an American school teacher and started dating her. Came time for the doctor to renew his medical license (socialized medicine) and they wouldn't renew it because he had strayed. He moved into town, married the school teacher (I was the best man) and filled in for other doctors, while they were on vacation. Giorgio and I did a lot of trout fishing and he enjoyed it. I encouraged him to move to the states, which he finally did. He settled in Cleveland, went through a hell of an internship, but went to the top at the Cleveland Clinic. He still lives there with his wife and three daughters.
The sergeant major (SMAJ) of the Missile Support (Walter) and I worked closely. As a result we are great friends to this day. He would take military funds to the American Express, in Venice. I was the escort and once the money was deposited, the rest of the day was ours. Walter was married nineteen years, at that time, and they didn't have any children, but they did have two adopted boys. While we were there, Gloria, Walt's wife, succumbed to the romance of Italy and presented Walt with a baby girl.
It was time to return to the states. I found out that a US cruise ship was going to take on some military passengers in Genoa. I requested passage, but was told that I wasn't of the rank of major or higher, so it wasn't possible. I don't know who interceded for me, but we were placed on the USS Independence for the ten day return trip. There were stops along the way and formal dining in the evenings. It was another wonderful time. My University of Maryland professor was also on board. It seemed as if he had run afoul of the Italian authorities and was declared persona non grata.
We arrived in the states and it was time to clear customs. I had purchased some cognac and other goodies, that I knew I wouldn't be able to buy again. Joyce insisted that I declare it all. The custom agent was a former military man and would have just as well overlooked the booze, but now he had to explain it. He insisted that I had purchased it in the PX and when I realized, after several proddings, what he wanted, agreed with him and I was cleared.
Was my military career at an end? I thought so, but that was not to be. Up until I reached sixty-two years of age, I received yearly orders as to where to report to in the event of a national emergency. If the orders were received by post, TV, or radio, I was to report to Ft Dix for active duty.
In retirement could I receive the medical or treatment if I needed it? I don't know, but I sure couldn't get dental assistance, except in a emergency. All the promises, that kept me in the service, seemed to disappear upon retirement. At least the pay goes on.
- RWR - 19 Feb 93
Copyright (C) 2003 by Robert W. Reichard and David F. Abner, All rights reserved except for items already copyrighted by others and credited within.